Skip Navigation
Website Accessibility
planning a monogram
Planning A Monogram
Fashion and decorating trends come and go, but monogramming has never gone out of style. A monogram turns any item into a personal statement. Immediately. A monogram is as unique as the person it is created for. And, with my precut (and prefused) fabric letters, you can easily personalize any fabric surface. A monogram is a collection of letters (commonly one's initials) that typically consists of one, two, or three initials.
I have complied a few ideas to help you plan all of your monogramming projects. I have used my initials for the examples. My full name is Donna Rae Babylon. I have also included a photo of a monogram on a project.
Single Letter Monogram
A single letter monogram can either be for the first or last name.
I used our prefused and precut large fancy cap letter on this tote bag. The black medallion banner (under the letter) is also precut and prefused and available in many colors.
Two Letter Monogram
For a two letter monogram, I suggest stacked initials. For an individual, the first initial of the first name is on top; the last name is on the bottom. For a couple, the first initial of each person's first name is usually used.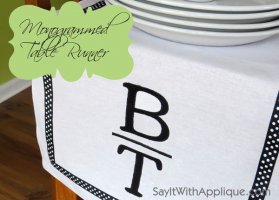 I used our prefused and precut large fancy caps for this table runner. For the line between the letters, simply use a wide and dense zigzag stitch. Add some coordinating ribbon or fabric trim to set the monogram off.
Three Letter Monogram
For a three letter monogram, you have a few choices. The initials can be different sizes (version 1, top left) or all the same size (versions 2, middle left. The examples are show using our fancy caps (both large and small).
Regardless, the letter arrangement is the same for both styles. For a female the order of the letters are: first, last, and middle (or maiden) initial. This style can also be used for couples. The middle initial is the shared surname of each individuals' first name.
For the two-tone tote, I used the large fancy caps. To add a little interest, I used a different color for the center lettter.
Circle Monogram
Our precut and prefused circle monograms come in two sizes: large and small.
Our circle monogram is a classic! It's great for individuals and couples alike!
For an individual, the suggested order is first name, last name, middle (or maiden name). For a couple, the last name is between the initials of the first name initials. Usually the females first name is first.